Suitable for:
From beginners up to very experienced divers, TEC divers, dive clubs, families.
Education of all levels including TEC!
The dive center is located in the gorgeous bay of Pampelonne, one of the most beautiful beaches in Europe!
Ramatuelle and St. Tropez with their special flair await you!
You find accomodations in several hotels and studios in and around St. Tropez. We recommend the mobile homes which are directly near to the dive center. You can choose between mobilehomes of different categories, in first row to the beach or inside the Kon Tiki holiday village.
How about breakfast with sea view or full board resitential in the restaurant?

With their variety and quality our dive spots belong to the Top 100 dive spot in the world (magazine Unterwasser, No. 10/2007).
We are diving 30 wrecks, e.g. the famous submarine Le Rubis, Togo, Espingole and many more.
In St. Tropez you dive NITROX 32 for free, TRIMIX is available!

Dive center management
The dive center in Ramatuelle / St. Tropez is managed by Stefane Urbain and Alex Vogl - here you meet the boss most of the time.

Alexander Vogl
Dive center manager and owner "ALEX" is working as a professional instructor since 1986. Previously, he was diving in the German Navy and the DLRG. In addition to other German instructor certifications, he is the only German who exhibits the "FRENCH SPORTS-DIVER INSTRUCTOR DIPLOMA". With his now more than 20 years dive center activity, he belongs to the experienced trainers of the diving scene.
Languages: French, German, English, Spanish, Alexish ;-)
Favourite phrase: "Heeeeeelooooooooooo :-)"!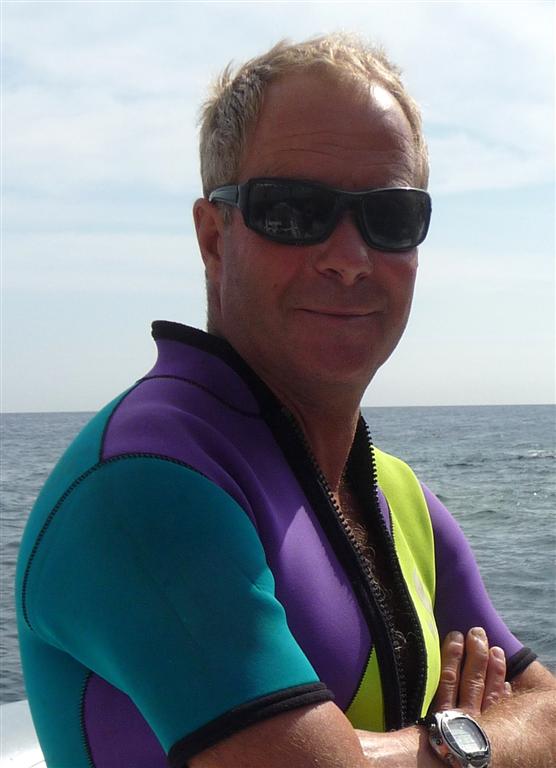 Stéphane Urbain
After many years at Club Med, and numerous locations around the world, "Stef" now rests in France. In winter he works as a certified freestyle skiing instructor in "Tignes". In the summer, he is always available in a good mood and is always patient - no matter if you are beginner or professional. Of course, he also is a certified dive instructor.
Languages: French, English
Favourite phrase: "So, this is the place we´re going to dive!"
Center equipment
We exchange our equipment every year to provide you modern and best quality gear at any time.
Our portfolio:
15 x 12 Liter Air tanks with double valve, DIN + INT
20 x 15 Liter Air tanks with double valve, DIN + INT
20 x 12 Liter NITROX tanks with double valve, M26x2
10 x 15 Liter NITROX tanks with double valve, M26x2
7 x 7 Liter Stage tank ALU
30 Stab Jackets
15 Regulators Air with Finimeter, depth meter and Octopus.
20 Regulators Air with Finimeter and depth meter.
15 Regulators NITROX with Finimeter and depth meter.
30 Wetsuits, 5mm
10 Half-Wetsuit, 7mm
4 Riged-Hull-Inflatable boats, lenght 7,5m, engine 250HP 4-Stroke Suzuki.
1 Riged-Hull-Inflatable boat, lenght 9 m, engine 300HP 4-Stroke YAMAHA.
The first BAUER Membrane filling compressor with BTROX Super Silent up to 40 % EAN with securus filter control. TRIMIX filling station electronic and manual.
O2 Booster
Security on boats
Marine Radio on each boat
Mobilephone
Oxygen aparatus with ambu bag and metering unit.
Seaman destress material (Rockets, drift anchor, horn...)
Medicine - Emergency bag
First-aid kit
Tank valves
All our Air tanks have double DIN or INT valves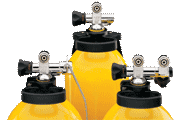 The Nitrox tanks do also have double valves, new European Nitrox standard M26x2.