Le Trafik, cargo ship

Drive time: 10 minutes, depth 45 - 60 m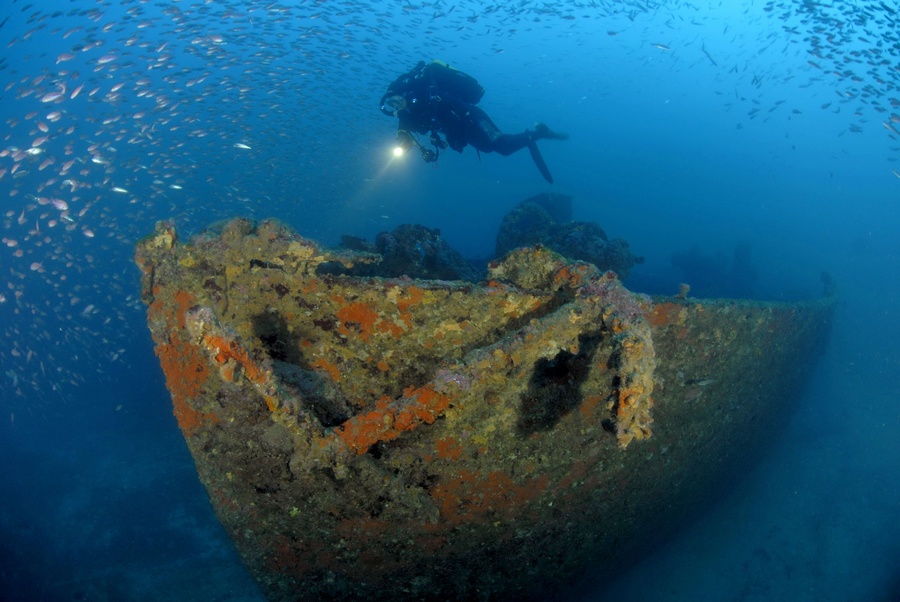 The wreck

The "Traffic" was a small freighter, probably Norwegian nationality.
It measures a length of 40m and a width of about 8m. Next to sails the ship was equipped as well with a steam engine, with around a power of approx. 200 hp. In opposite of the steel hull, the towers were probably made of wood, what would explain their today´s absence.
The "Traffic" must be sunk around the turn of the century, as the shipbuilding, as well as the characteristics of the wreck hypothesizes.
As a number of ships were sailing under the Nordic flag with the name "Trafik" at that time, this wreck can not be characterized precisely.

The reason of the sinking are still unclear. However the missing of the drive shaft allow two probable conclusions:

• a voluntary self-absorption by the shipping company in order to save the costs for the disposal
• a loss of the ship as part of a trolling, possibly on the way to reparation.

The wreck was discovered by a group of coral divers, who kept the existence of the wreck secret for a long time. Because of that the Trafik is submerged only for a few years.

The dive
The "Traffic" rests upright on an open sandy area, swarmed by larger fish. With the bow at a depth of 59 m, and 53 m in the rear, the "Traffic" is a challenging dive. Next to the plurality of fish, you can see the well preserved main winch, as well as many further details of the ship. Thus, the west side of the wreck is covered with gorgonians, also you can find some of the rare Mediterranean diadem sea urchin.
Typically the beautiful dive is additionally enhanced by very good visibility.