The Tiki Hutte situated on the beach (1st and 2nd row) only a few stept from the sea.
The comfortable and well equipped Tiki Hutte set in glorious surroundings guarantee you a holiday to remember!
A separate bedroom, kitchen/salon area and bathroom make the Tiki Hutte ideal for couples!
The cleaning at the end is included. For 10 % additional price, you can reserve a certain mobilehome number. Otherwise we will allocate you an accomodation of your booked level at arrival.
Rented from Monday to Monday, the Tiki Hutte may also be rented for shorter stays depending on availability and only at the last minute.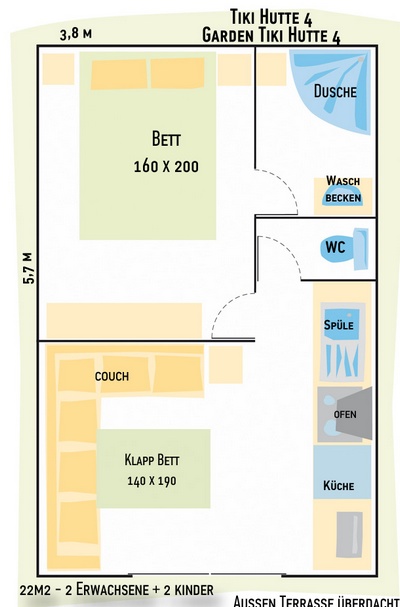 2 Erw. + 2 Kinder Komfortpaket
Fläche ca. 21m² + der überdachten Terrasse von ca. 6m²
1st row:
Bed linen and towles included
Air condition: Yes
Sat TV: Yes
Mini Stereo: Yes
Locker: Yes
Furnished kitchen: Yes
Oven / microwave: Yes
Dish washer: Yes
Fridge: Yes
Freezer: Yes
Toaster: Yes
Water boiler: Yes
Ventilator: Yes
Bathroom with shower: Yes
WC: Yes
Terrace + parasol: Yes
Roofed terrace: Yes
Garden table + chairs: Yes
Deck chair: 2
Adults: 2
Kids: 2
Rooms: 1
Double bed 160*200: 1
Folding bed in the living room 140*190: 1
2nd row:
Bed linen and towles included
Air condition: Yes
Sat TV: Yes
Mini Stereo: Yes
Locker: Yes
Furnished kitchen: Yes
Oven / microwave: Yes
Dish washer: Yes
Fridge: Yes
Freezer: Yes
Toaster: Yes
Water boiler: Yes
Ventilator: Yes
Bathroom with shower: Yes
WC: Yes
Terrace + parasol: No
Roofed terrace: Yes
Garden table + chairs: Yes
Deck chair: 2
Adults: 2
Kids: 2
Rooms: 1
Double bed 160*200: 1
Folding bed in the living room 140*190: 1
Video inside and outside Garden Tiki Hutte: