Suitable for
Beginners to very experienced divers, tec divers, diving clubs, diving schools, families
Nitrox and Trimix
There is Nitrox 32 for free and Trimix available in Saint-Tropez.
Center management
The center in Saint-Tropez is managed by Alexander Vogl, here the boss can be found most of the time.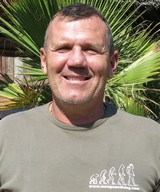 Alexander Vogl
Dive center owner Alex has been working as a professional diving instructor since 1986. Before that he was a diver at the German Navy and DLRG. Besides other German instructor brevets, he is the only German who owns the "National French Sports Instructor Diploma". With his now more than 32 years of dive center activity, he is part the "experienced" instructors of the diving scene.
Languages: German, English, French, Spanish, Alexish ;-)
Favorite quote: "Supi :-) !"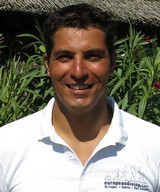 Stephane "Stef" Jarniac
After spending several years traveling and perfecting his experiences around the world, Stef now lives in France. He is there for you for all aspects of diving.
He works as a ski instructor in winter.
He has a passion for nature and is happy to share it with you. Whether beginner or advanced, summer and winter, one thing is certain: Stef is your good mood contact person.
Languages: French, English, Italian, Spanish
Tank valves
All our air tanks have double DIN or INT valves.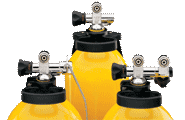 The Nitrox tanks also have double valves with the new European Nitrox standard M26x2.